DOB: 12/14/77
Place: Georgia
Has had roles in The Grudge, Anacondas and Fever Pitch. Really hot, not a bad actress. Hopefully she'll be getting bigger roles soon.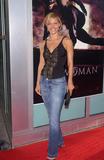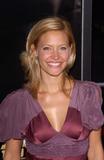 Stats
Name: Katherine Dee (KaDee) Strickland
Birthdate: December 14, 1977
Hometown: Blackshear, GA
Resides: Los Angeles, CA
Eye Color: Green
Hair Color: Blonde
Fun Facts
KaDee's father played football for the University of Georgia but injured himself lifting a cow.
KaDee grew up in a very small town in Georgia.
KaDee attented the University of Arts (Philadelphia).
KaDee's mother is a nurse and nursing instructor and her father is a former high school football coach and superintendant.
KaDee has an older brother, Dan, and an older sister, Mabry.
KaDee shot Anacondas: The Hunt For The Blood Orchid in Fiji then went to Tokyo to shoot The Grudge.
KaDee lost a toe nail from the stagnant water in Fiji.
Some people mention how "fake" KaDee's accent is in Anacondas but, she actually has a southern accent.
KaDee's favorite scary movie is "The Omen."
KaDee threw the first pitch for the Houston Astros season opening game. She threw it all the way to the plate without bouncing it.
KaDee was M. Night Shyamalan's waitress when he was directing The Sixth Sense. He liked her so much he gave her a two line credited part.